I LOVE Pinterest, as I am sure many of you do! I am creating my own linky party for Pinterest Faves!! I call it Teaching + Pinning = LOVE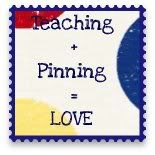 The Grab Code is over there ------>
Here are the rules:
1. Post your favorite teaching related pins
2. Grab my button code and link up to this post
3. Check out other's blogs and leave comments or follow your favorites!
Here are some of my favorite "teacher" pins for the week:
We will be making these little guys this week in my class to go with our Angry Birds Anger Management Unit
source
And this one...because I ♥ organization (even when I'm not that good at it!)




We are halfway through the week! Keep it up!!!

And...

Pin away, friends and make sure to link up below!